Modern Princesses
The new and upcoming princesses for our little girls: meet with us the modern princesses of the children's world. Find your favorite one and read her story full of illusion and fantasy!
List of Modern Princesses
Princess Alice
Alice is the main protagonist of Alice's Adventures in Wonderland (1951). Although Alice is technically not a princess (as she was not born as one nor married to a prince) she is included in some versions of "Disney Sing-A-Long" and the PlayStation (PSP3) game "Kingdom Hearts". Alice is a cute, sweet, kind and beautiful girl living in the era of Victorian England. Her pet is a kitten named Dinah, and she has an older sister who is seen briefly at the beginning and end of the movie.
See Alice's Adventures in Wonderland story
Princess Elsa (Frozen)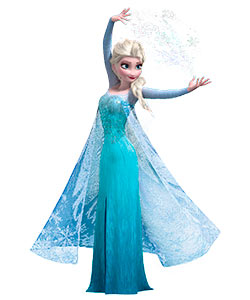 Elsa the Queen of Arendelle, is the main protagonist of the Disney animated film Frozen. She is the older sister of Princess Anna and was next in line for the throne of Arendelle, until her powers over ice and snow led her to become the famous Snow Queen, ruler of winter.
See Frozen story (Anna and Elsa)
Princess Anna (Frozen)
Anna of Arendelle is the second main protagonist of Disney's winning animated film Frozen. She is more sassy than graceful and can sometimes act before she thinks. But she is also the most optimistic and loving person you will ever meet. She longs to be reunited with her sister, Elsa, as they were close during their childhood.
See Frozen story (Anna and Elsa)
Princess Esmeralda
Esmeralda was first introduced as a supporting character in the Disney Classic The Hunchback of Notre Dame (1996), and is based on the character Esmeralda from the novel "Our Lady of Paris" by Victor Hugo. Esmeralda appeared in several products of the Disney Princess franchise (such as the game Kingdom Hearts 3D: Dream Drop Distance for Nintendo 3DS) until 2005. Since then she has no longer appeared in any official Disney Princess products, possibly due to her sultry attitude in the film, her lack of connectivity to royal blood, and her "inappropriate" attire.
See Hunchback of Notre Dame story
Princess Jane Porter
Jane is the main female protagonist of Tarzan (1999). Inspired by Jane Porter from the Tarzan novels by Edgar Rice Burroughs. In November 1999, Jane was officially announced as the new Disney Princess and in February 2000 she appeared in the official Disney magazine, but since then she has not appeared in any other product of the franchise, most likely because she does not really belong to royalty and also because of a conflict between Disney and Edgar Rice Burroughs' family over the rights to Tarzan.
Princess Moana (Vaiana)
Moana is the protagonist of the movie Moana (Vaiana in Spanish), and is the first Disney Princess of Polynesia. She is the daughter of Chief Tui of Motunui Island in the South Pacific. Dark-skinned, black hair wavy to the waist, brown eyes, body designed considerably more realistic than the stylized proportions of the previous Disney princesses.
Princess Vanellope von Schweetz
Vanellope von Schweetz is the main female protagonist of Ralph the Demolitionist! in Spain called Rompe Ralph! a missing princess from the game "Sugar Rush" with no memory of her past. Through her unlikely friendship formed with Ralph, Vanellope will learn the truth of her noble past and in "Ralph the Demolitionist 2" (2018) she finally discovers that she is also a Disney Princess.
See Ralph the Demolition Story